About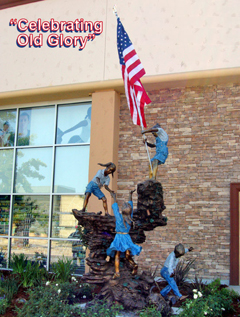 Art of Bronze is a forging of hard work and a true love for creating wonderful works of art for our clientele throughout the world. We measure our success by satisfied customers and lasting monuments that will outlive us all. As you peruse our online catalog, we hope you notice the artistic range of sculptures we offer, the exceptional detail and quality shown and the pride we take in what we believe in.
Art of Bronze is comprised of artists, craftsmen, dedicated professionals, spontaneous minds and lifelong employees that work together so you can accentuate your home or public project with beauty and artistry. We conceive new and wonderful ideas every day, but make no mistake- we are not an overnight online operation.
Art of Bronze can create any concept or idea you desire into bronze. Whether you require a model or heroic monument, no job is too difficult. We specialize in custom commissions and public monuments.
Art of Bronze realizes the trust you place in our hands to deliver a work of art that you will forever enjoy. Our goal is to satisfy your needs and desires. We will guide you through the installation, maintenance and delivery of your new sculpture or sculptures. Over thirty five years of experience since creating our first casting speaks in and of itself.
Art of Bronze invites you to call our staff today.